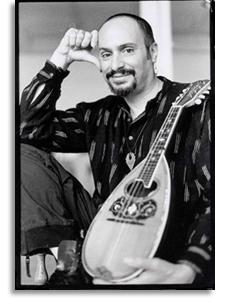 Sheila says:
I saw John Kruth read poetry in Milwaukee, Wisconsin something like 20 years ago.  At that time I bought 3 of his books:
The Horror Scope  (An astrological guide to understanding the monster within); The Perfumed Firecracker (poems); and Bed Crumbs (Sweet dreams and nightmares). 
It was from Bed Crumbs that I often quote one of my favorite lines of poetry: "The meek shall inherit the earth and leave crumbs in your bed."
Fifteen years later, after I opened Center Portion, a writer friend of mine, Dan Hanrahan told me about this band that would be great in our space.  Not only did I love the music but it was John Kruth, known only to me as poet, but who had obviously fashioned a duel career for himself as poet and brilliant musician.
He and the band rocked Center Portion during his tour for the CD, Eva Destruction.

My 9 year-old is proud to be the only one in his school with this t-shirt.
John's music is eclectic and full of energy.  Every member of the band plays at least 10 instruments and they often swap instruments from song to song to poem. Even during a number an instrument is changed or switched out. It's a riot.
I hope John and band will return to Center Portion with this amazing original music.
Running sports | Nike Air Max 270 - Deine Größe bis zu 70% günstiger