Sheila Donohue and Greg Scott believe so strongly in the power of art (and its ability to effect change) that they carved out a space in their home to support it.  Center Portion is a salon, whose donations are used for direct support of the people who present their ideas.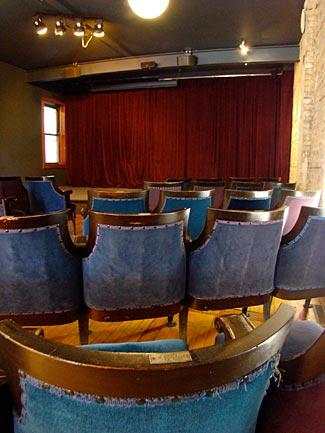 Center Portion is a performance space, garden and a gallery, dedicated to art and activism. Poets, musicians, actors, speakers, film makers and educators love this intimate venue for helping to create an authentic experience. We feature nationally known writers and artists as well as the best of the local artistic fringe. Center Portion is in the heart of Chicago's Logan Square neighborhood.
Sheila Donohue is a nationally recognized performance poet, who has been sharing her original work with audiences for over 20 years.   Greg Scott is a visual designer and photographer.  Together the two own On Track Marketing, Inc., which has operated nationally, since 1991.  The company has done projects on every continent, even Antartica.  On Track Marketing is a team of thinkers and makers, working to reveal unique business stories and create positive results.  On Track helps business communicate the heart of their ideas — the part that makes them tick.
Center Portion was born in the year 2000, from a desire to support writers who present their own creative work, thinkers who present ideas, and musicians who value the intimate listening experience.  Sheila Donohue co-produces events on an invitation basis only with people she finds fascinating.  It's as simple as that.  For artists or educators that Sheila doesn't know yet, there is a short application form on this site, to see if the event idea is a fit.  The space is not rented for parties or weddings.
The basic format is educational events (activism) on the weekdays and performance based events (art) on the weekends.  Sometimes we have a few events in a month, and other times months go by without a show.  Either way, the only way to find out about our unique happenings is by subscribing to our email list, or following us on facebook or twitter.
A small sample of those who have been part of Center Portion:
Curious Theatre Branch - leading creator of original theater in Chicago
Nora Dunn - critically acclaimed writer & performer
Nourished by Nature - weekly fresh farm food
Birth without Fear - educating couples on how to have an unmedicated, safer birthing experience
Fresh - Film about how turn around the trend of over processing food
Chuck Perkins - performanc poet and owner of the famous Cafe Istanbul in New Orleans
International Photobooth Convention - working display of antique and modern photobooths
Voice of the City - bringing children to the fine art experience
National Poetry Slam - Center Portion opened it's doors in 2000 to host readings for over 100 nationally recognized poets.
Here are a few of the social change organizations that we admire and support:
Dementia Arts
Democracy Now
Chicago Waldorf School
Chicago Justice Project
Farm to Consumer Legal Defense Fund
Weston A. Price Foundation
Friends of Debra Shore
Center for Neighborhood Technology
Empirical Opera
Chiditarod
Judd Adaptive Sailing Program
Food Democracy Now
Fresh
Bradley Childbirth Education
Voice of the City