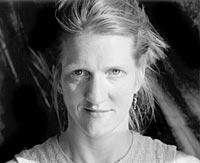 Sheila Donohue is a performance poet with four National Poetry Slam Champion titles, founder of duets for poetry, Betty's Mouth, and author of the book, The Avalanche Expert. She has enjoyed feature performances of her poetry and comedic writings at Steppenwolf, Ravinia, Curious Theatre Branch, The Green Mill, The Art Institute, The Chicago Cultural Center, and on Oprah! andNational Public Radio. Ache Obejas of Chicago Tribune once referred to her as "a poet's poet," because communication is at the heart of her goals, whether in writing, performance or the transformation of business.
Select radio performances and interviews
- Performance on WBEZ radio show, Odyssey, a live reading from Steppenwolf Theater performing the character of Linda Lay.
- Interview and Poetry reading with Marc Smith, WLS to promote the 10th Anniversary National Poetry Slam
- Poetry reading for Gretchen Helfridge, WBEZ
- Ira Glass, This American Life (a series about chicken), feature of Sheila Donohue and Cin Salach on WBEZ performing I want to talk to you before I eat you
- Live broadcast poetry reading with Allan Ginsberg, WNUR FM
- Betty's Mouth audio performance, WBEZ
- Yearly broadcast of the "Christmas Shopping" poem on WXRT rock fm sung and read by radio personality Michelle Damico
- Multiple late night poetry readings on WLUP rock FM
- Poetry with Tony Fitzpatrick on the LOOP AM1000
- Interview and Poetry reading on San Francisco public radio to promote San Francisco Poetry Slam
- Featured poet Northwestern University Radio
- Featured poet University of Chicago Radio
Recordings - Spoken Word CDs
A Snake In The Heart: Poems and Music by Chicago Spoken-Word Performers
1995, Tia Chucha Press
Cover art by Tony Fitzpatrick
Spoken Word CD, A Snake in the Heart, is a unique compilation featuring some of Chicago's most accomplished poets and musicians. It offers a sampling of the evolving poetic skills of a few writers who would have a national impact on the literary arts. The CD features poets Sheila Donohue, David Hernandez, Rohan B Preston, Luis Rodriguez, Cin Salach, Patricia Smith, Christopher Stewart, Marvin Tate, and Michael Warr. Music by Mwata Bowden, Circadium Rhythm, Mitar Mitch Covic, Tomas D'Utrera, and Street Sounds.
LIP: the CD with a big mouth
1994 Ruby Throat Productions, San Francisco, CA
Mastered at Rocket Labs, Produced by Women at the Wheel
Spoken Word CD, LIP is a collection of women writers and performers from across the US from a wide multi-ethnic mix. Twenty-seven artists are included in all including Patricia Smith, Emilia Peredes, Eli Cuppola, Ann Magnuson, Dominique Lowell, Cin Salach and Sheila Donohue.
Select past performances
- Presented Incoming & Outgoing at the Rhinoceros Theater Festival Solo Series.
- Presented a modern day version of the character Sloth in Something Wicked This Way Comes, a variety show by Ian Belknap as part of new works in The Rhinoceros Theater Festival.
- One hour feature performer at Beyond Baroque in Los Angeles, CA. Sheila performed her character study My name is SHEDON, and I am a rookie psychic.
- Created and performed a one hour multi-media presentation of the works of ee cummings for the artist's birthday celebration, hosted by the Chicago Cultural Center.
- Sheila's character UTA was featured in Ian's Dog and Pony Show, a comedic writer's showcase at The Lunar Cabaret. The show achieved Critic's Choice in the Chicago Reader.
- Featured in Urban Voices, a multi-ethnic, multi-discipline presentation of urban writers directed by Jeff Hegelson at the Guild Complex.
- Performed as part of "The Soul of the Game" at Chicago's Field Museum
- Performed with partner Cin Salach as Betty's Mouth to a sold out show at Ravinia as part of a Musicality of Poetry series.
- Performed as Betty's Mouth at Wicked Chicks, Cabaret Metro.
- Performed as Betty's Mouth at Steppenwolf, for a benefit for writer and performer Cheryl Trykv.
Publishing credits
The Avalanche Expert
Book of poems and drawings
by Sheila Donohue
published 1989 by On Track, Chicago, IL
Anthologies
Poetry Slam, The Competitive Art of Performance Poetry
Documents 10 years of poetry with 100 of the best slam-winning poems ever
edited by Gary Mex Glazner,
Published 2000 by Manic D Press, San Francisco, CA
 
Naming the Daytime Moon
award winning anthology of woman writers
Edited by Julie Parson and Jorget Harper
Published 1987 by the Feminist Writer's Guild, Chicago, IL
 
Periodicals
Hammers Poetry Magazine, issue no. 6
published 1992 by doublestar press, Chicago, IL
Hammers Poetry Magazine, issue no. 7
published 1993 by doublestar press, Chicago, IL
Hammers Poetry Magazine, issue no. 12
published 1997 by doublestar press, Chicago, IL