Rooster, watercolor painting by CWS 3rd grader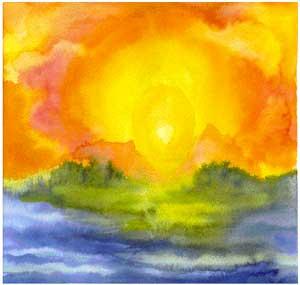 Center Portion hosted an evening of community outreach to prospective parents for the Chicago Waldorf School to answer their questions, dispel myths, and generate interest in this amazing education. One only has to meet a Waldorf-educated child to understand that the curriculum is a powerful antidote to the test-centric norm of American education. The creative and flexible thinking that Waldorf fosters can provide our children with the tools necessary to become successful, compassionate leaders in the tumultuous 21st century.
Though less well-known in the United States, Waldorf is the fastest growing independent school movement in the world.
---
From AWSNA:
Developed by Rudolf Steiner in 1919, Waldorf Education is based on a profound understanding of human development that addresses the needs of the growing child. Waldorf teachers strive to transform education into an art that educates the whole child—the heart and the hands, as well as the head.
Teachers in Waldorf schools are dedicated to generating an inner enthusiasm for learning within every child. It allows motivation to arise from within and helps engender the capacity for joyful lifelong learning.
For the Waldorf student, music, dance, theater, writing, literature, legends and myths are not simply subjects to be read about, ingested, and tested. They are experienced. Through these experiences, Waldorf students cultivate a lifelong love of learning as well as the intellectual, emotional, physical, and spiritual capacities to be individuals certain of their paths and to be of service to the world.
FOR MORE ABOUT WALDORF:
Chicago Waldorf School
Association of Waldorf Schools of North America